Holiday homes: pros and cons

Holiday homes: pros and cons
This time the topic is very different when viewed from the perspective of an Italian or a foreigner. That's why I decided not to write an article personally (I am Italian), but to publish the one of Walks Of Italy. This is written for foreigners, by foreigners. It can be a best point of view for you.
From here on, what you see is the exact copy of the article that you can find at this link  Short-Term Apartment Rentals in Italy: 6 Top Tips.
Renting an apartment can be particularly fantastic if you're traveling on a budget, especially as a family. In the center of Rome, for example, there are hundreds of apartments that go for less than 125 euros a night; good luck finding a hotel room where you can comfortably sleep a family for the same price!
A short-term rental in Italy is also a great option if, say, you want to save money on eating out (you'll have your own kitchen), like the idea of having a living space to relax in (but don't want to pay for a swanky hotel suite), or want to experience really "living like a local" (in a local's own home).

That said, staying an an apartment doesn't always go perfectly. Every apartment is different, so conveniences and comforts vary. Photographs can be misleading (as they can for hotels). And all but the most popular apartment rentals might have only had a handful of guests in the past, so there are fewer reviews to go on.
How can you make sure you'll get the most out of a short-term apartment rental? Here are some tips to keep in mind.
When booking, there's no reason to use Craigslist
Craigslist has its uses. But when it comes to finding a short-term apartment rental, it's just too risky. Scams abound, and given the free-for-all nature of the posts, there's no way to know if people are who they say they are… or if apartments are actually what they look like, either!
Luckily, lots of other, far safer options have popped up. Some of our favorites include Wimdu, AirBnB, and HouseTrip. All of them have built-in protections for you. When you book an apartment on AirBnB, for example, you submit your payment to the website. And AirBnB holds onto it, only releasing it to the owner two days after you've actually checked in. So if you arrive and the apartment doesn't exist, or isn't what the description says, the owner never sees the money. Owners also can't cancel on clients more than once a year, and get penalized for even that one cancellation.
They're also good because they have a review system where only people who have actually booked and stayed at the property… can write a review. Seems like a no-brainer, right? Sites like TripAdvisor don't work that way, because anyone can submit a review; there's no check on whether they've actually stayed there. But because you book and review through the same system, with sites like HouseTrip and Wimdu, there's a way to tell.
So play it safe. Stick with the major short-term apartment rental sites. There's no reason to play Russian roulette with your vacation.
Know upfront what you're getting (breakfast? air-conditioning? an elevator?)
Apartments in Italy aren't like apartments elsewhere. For the most part, they tend to be older. Bathrooms, and especially showers, are smaller. Because the buildings are old, there often isn't an elevator, only stairs. And many Italians don't like air-conditioning, so it's not an amenity every apartment has. Always check the list of amenities for the apartment to see what's offered.
As for breakfast, most apartments don't have it—at least not in the sense of a breakfast cooked for you in the morning. The most they might have is some breakfast items, like fruit, milk and eggs, in the refrigerator. If they don't, there's usually a nearby market where you can pick some food up. But you can always ask before you arrive (or book) the flat.
Remember that verified photos aren't always better
Some of these websites have "verified" photos of certain properties. That means that a photographer sent by the company has visited the apartment and photographed it. The benefit, of course, is that you can be sure the photographs are real. But keep in mind that they're also taken by a professional photographer—and can make the apartment look more attractive, bigger, or brighter than snapshots taken by the owner.
Don't hesitate to ask for just a night's stay—or for a discount, if you're staying longer
At the "Venitian apartment new and clean" in Venice via AirBnB, you can sleep 6 people for €139 a night!
The idea that you can't rent an apartment in Italy unless you're staying for at least a week is a complete misconception. A few places, particularly countryside villas, do have that rule. But in cities, it's rare. Some apartments might have 3-night minimum stays, but many others let you stay for as little as one night.
Even if you do see a property with a minimum stay that wouldn't work for you, ask anyway. Particularly if it's low season, the owner may well decide to be flexible.
And if you are booking for more than three days, ask the owner if there's any discount when you first contact them. Sometimes, it's built into the system—they might offer a 10% discount on a week or more, for example—but sometimes it's not. And asking is a good way to see if you can get that price down.
Take advantage of local knowledge
Staying in a short-term apartment rental means you won't have a concierge. But what you do have is, we think, even better: a direct line to a real local, and one far less likely to be getting commissions or kickbacks on his or her suggestions than a concierge! Often, the apartment owner will have an information sheet with suggestions for restaurants, stores, and sights near the apartment, but if not, ask. It's one of the best perks of renting an apartment.
Remember you're not staying in a hotel
It's not just that there won't be a concierge. You probably also won't have toiletries provided, so bring your own. (You should, however, have linens and towels provided). And if something minor happens—like you run out of paper towels—you'll usually be expected to handle it yourself. (Of course, if there's any kind of emergency, or even if you have a question about where to buy paper towels, you can always contact the owner).
The fact that this isn't a 24-hour hotel also means it's even more important to be clear about when you'll arrive. Often, someone will have to come meet you to let you in. So get your stay off to a good start by giving as much of an idea as you can about when you'll arrive! And if you're going to be late, call, text or email to say so.
Keep these tips in mind, and we promise: You'll have a wonderful, and rewarding, apartment stay in Italy!
Finally I leave infographic prepared by me (Alice) with the pros and cons of staying in a vacation home.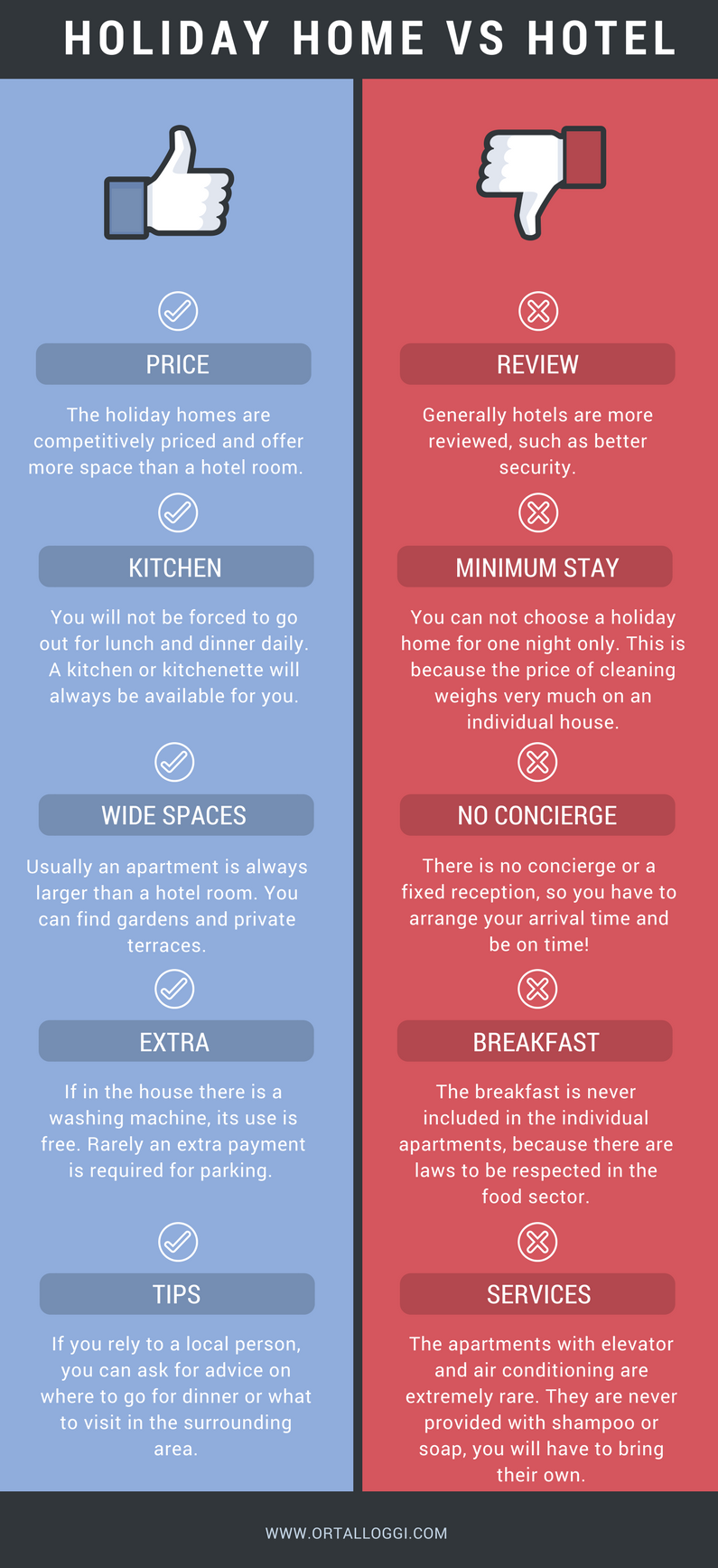 Alice – www.ortalloggi.com