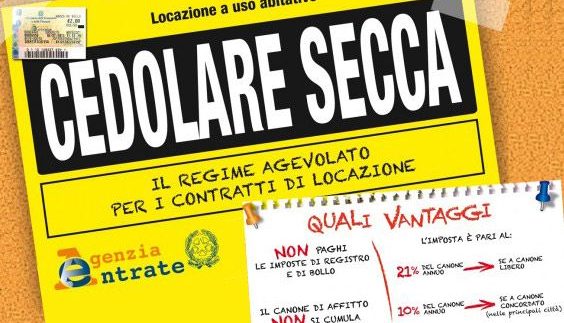 CEDOLARE SECCA 
This concept is very complicated for me to explain the English language.
I thought it'd be better for you, copy a sponsored article by Italian property lawyer Nick Metta, partner at Italian law firm Studio Legale Metta. 
After years of discussion, it seems Italian property investors might finally see the flat property income tax reform pass in 2011.
The Italian government is currently reviewing the details of the so-called "cedolare secca" (lump sum dividend) bill which would give owners the opportunity to apply a flat tax rate to their rental income. The new flat rate rules would apply to private Italian property owners only. In particular, initially the Italian government talked about a 20% flat income tax to apply.
Then they talked about applying a range from 20% to 23% depending on the terms and conditions of the rental contract. Now they are proposing a range from 19% to 21% as stated in the most recent proposal amendment which was filed on 27 January 2011. The government is also discussing amendments on ancillary rental charges such as the rental contract registration fee. 
it seems that the subjects who would benefit the most from this new flat rental tax rate would be private property investors whose Italian tax return reflects an aggregate taxable annual income of more than 28,000 euro.
However, if some of the most recently added options pass, taxpayers with any annual income would find more convenient the new flat rental rate. This means that Italian property owners could save more than 50% on property income tax should the bill pass as per the terms currently being discussed by the government. 
The Revenue Agency does not allow to have documentation in English of this taxation.
Prepares, however, the forms for its application in German language, which you can find at this link German Form
and in the Slovenian language, which you can find at this link Slovenian Form
If you need information about this method of taxation, please contact us at +39322911707 or via the email address info@ortalloggi.com.
If, instead, you want to read the article in Italian can be found at this link Cedolare Secca
Alice – www.ortalloggi.com
‪#‎ortalloggi ‪#‎lakeforlike ‪#‎lakeorta #istat #tax #affitti #locazioni #lease #rental #cedolaresecca #cedolare
Sources: